The Judd ancestry can be traced back to Deacon Thomas Judd
who came from England and settled in Cambridge, MA in 1633/4.

Deacon Morton Judd, born in 1808, learned his trade in a brass foundry
and then, established his own business in 1830.
In 1833, Morton's brother, Oliver S., joined the company as partner
and the name was changed to M & O.S. Judd.
In 1853, Morton's eldest son, Albert, replaced Oliver S. as the business partner.
And, the company's name was changed to M. Judd & Sons.
In 1863, Albert purchased the business and sold it back to his uncle, Oliver S.
In 1865, Morton and Albert formed their own company
to manufacture "Builder's Hardware" in New Haven, CN.
In 1870, the business evolved to the Judd Manufacturing Company
when Edward, Oliver S.'s brother, became President.

In 1877, Morton and his three sons, Albert, Hubert L. & Edward, erected
a plant in Wallingford, CN where they began a busness to manufacture
Stationers' and Druggists' hardware. It was during this time that the company
became well known for their still and mechanical banks.
( The first mechanical bank had been introduced in 1869.
This bank was known as "Hall's Excelsior" made by J.& E. Stevens. )
Judd banks were usually finished in a brown or maroon lacquer and
were washed in a green coloring.


Dog on a Turntable Bank
Operated by:
placing a coin on a tray
and turning the handle
the dog then deposits the coin
Their Mechanical Banks include:
Gem
Mosque
Minature Bucking Ram
Dog on a Turntable (1885)

Mosque
Not until the early 1910's, did the company start making
"Cast Iron " decorative products, such as, Doorstops,
Bookends, Doorknockers, Inkwells.
The Judd Company was sold to the Stanley Works Company in1954.

Known JUDD Doorstops include:
CAT-- Hollow (Not Shown on Website)
the MAID # 1242
the BELLHOP # 1244
POINTING PILGRIM BOY # 1245
MAJOR DUMO # 1249
DECO WOMAN #1251
FRENCH FRUIT BASKET # 1252
DAPPER DAN # 1254
DAPPER DAN # 1256
DUTCH GIRL #1255
CAT on CHIMNEY #1257
WHIMSICAL BOY # 1258
FLOWER BASKET # 1259
DOGWOOD BASKET # 1260
BOY in TUXEDO # 1262
The WEST WIND # 1263
MALLARD DUCK # 1265
BOY With HANDS In POCKETS
JAPANESE SPANIEL # 1267
POINSETTIA # 1268
ROSE TRELLIS #1269
WOMAN HOLDING FLOWER BASKETS # 1270
CAT SCRATCH GIRL # 1271
PEASANT GIRL #1277
MINUET GIRL # 1278
WOMAN PERFORMING CURTSEY # 1279
COTTAGE # 1283
FLOWER BOWL # 1285
SNOWY OWL on STUMP # 1287
PARROT # 1289
LIGHTHOUSE # 1290
SCHOONER SHIP # 1296
Note 1 :
Many of their doorstops can be identified by the Brown color of their back sides .
This Brown was the Base Coat color painted all over the doorstop
before the painted colors were applied.
Thus, this brown was only visible on the back since the front was painted.
(The Brown overcoat only purpose was to protect the cast iron from rusting.)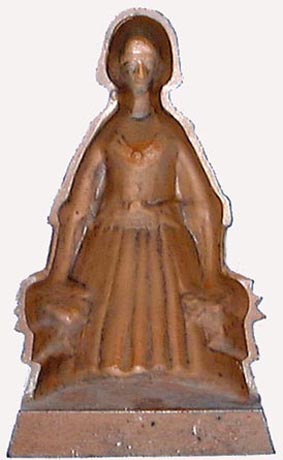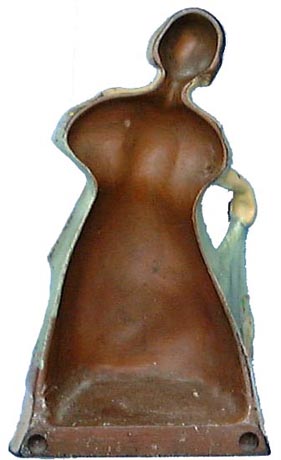 Note 2 :
Judd sometimes placed a hole in the middle of the back.
This hole held a wooden peg that tappered into a flat.
The flat was to fit under the door.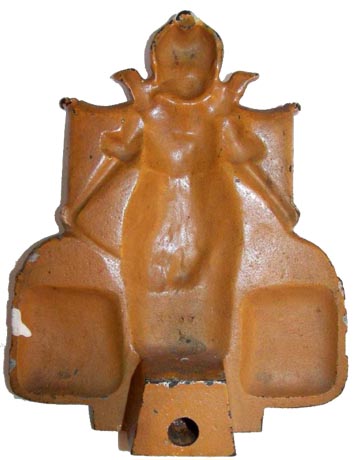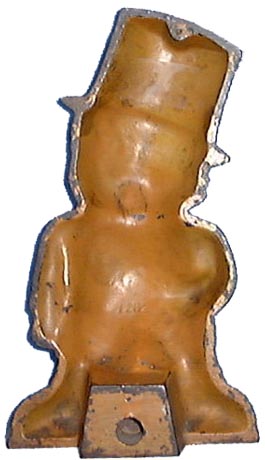 You almost never see the wooden peg --
almost all have deteriorated by now.


MARKING STYLE
1. Their Number on back was usually " typewritten style "
&nbsp &nbsp &nbsp and consisted of 4 numbers that ranged from 1242 to 1296

2. Sometimes, they also marked their logo:
&nbsp &nbsp the letters -- C &nbsp &nbsp O with a larger J in the middle followed by a period
&nbsp &nbsp See Picture Below: